Spirit Release - Australian Bush Flower Essences
Main Article
Background Reading
Web Links
Articles
Australian Bush Flower Essences by Pat Bromley
This article explores the use of Australian Flower Essences as tools that can help individuals with emotional, mental, and spiritual issues. These remedies can be used as a support to other therapeutic interventions.
Australian Bush Flower Essences are similar to Bach Remedies and can address issues that are more relevant today such as sexuality, creativity, communication and spirituality. They help bring forward the positive qualities that are inside each one of us, allowing us to resolve negative beliefs and enhance positive ones; to replace fear with love.
ANGELSWORD works on whole energy field; cutting through confusion and misinformation, to help hear the clear words of the angels and of your Higher Self and be aware of what is really happening. It helps to disconnect and clear psychic cords of energy between self and others. Where individual's behaviour is influenced, even determined, by an entity other than the self, it clears negative energies and entities out of the aura. It helps to release energies or entities that have been taken on when the aura has been open, usually at a time of unconsciousness or drugs, anaesthetic, alcohol or trauma.
AUTUMN LEAVES increases the ability to hear, see and feel communication and guidance from the other side, thus easing the transition of passing over from the physical plane.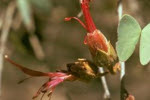 BAUHINIA assists in opening up to the person up to new ideas and change; good for people who are too set in their ways.
BOAB helps terminate the continual passing down from generation to generation the same emotional and behavioural patterns. It is useful where addiction or negative thought is an overshadowing family pattern from the ancestors. Use where negative family patterns are preventing action or personal growth or where a person is so controlled by traditional family values that they are unable to do see their way. Helps clear lines of karma between people so that they do not need to interact with each other and pay-back old scores this lifetime. Helps release and clear earth bound spirits from space and environment to the Light when used topically as a spray (combine with Angelsword, Fringed Violet and Lichen)
BOTTLEBRUSH aids in major transitions, including death, allowing one to move on with forgiveness. Aids in mother/child bonding or issues with the mother. Helps resolve old unresolved issues, brushing out the past.
BUSH IRIS helps to open the people up to their own spirituality and higher perceptions and have faith and awareness in death as a transitional state. Helps also to clear blocks to the base chakra.
CROWEA helps align etheric and astral bodies after disturbance, balancing and calming and centering the person. Helps bring peace and calm instead of worry and distress and give clarity to emotions.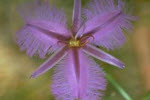 FRINGED VIOLET helps repair damaged or weak aura caused by trauma, substance abuse or disorientation from a release; helps with psychic protection, giving protection against being physically, emotionally, psychically drained by others and releases shock or trauma of a previous incident, which can keep the person, on some level, back at that time.
LICHEN assists the etheric and the physical bodies to separate to prepare for passing over and also to be aware of and look for the light.
MINT BUSH helps with the chaos and confusion as a result of spiritual growth or the crumbling of your old belief system.
PAW PAW assists with the integration of new ideas and information. It can improve access to one's higher self for problem solving.
PINK MULLA MULLA helps to give courage to those who have suffered a deep spiritual wound long ago, which has led to a deep scar on the soul and psyche; helps to overcome emotional blocks, which have resisted clearing and to trust in the future.
SUNDEW is useful when there is severe deep or excessive emotional pain and a person may choose to 'split off'; this will help bring their spirit back into their body and be focussed in the present when there is work to be done.
TRANSITION ESSENCE helps ease fear of death as well as helping the person move on with serenity and dignity and is a composite of these five essences: Autumn Leaves, Bauhinia, Bottlebrush, Bush Iris and Lichen.
Australian Bush Flower Essences are generally recommended to be taken, seven drops night and morning but practitioners may well use their intuition for dosage.
If you want to know more, the founder of the essences Ian White has written two books; Bush Flower Essences (Book 1) and Bush Flower Healing (Book 2). There is also a set of picture cards, which can be used for people to intuitively select their own essences.
♥♥♥♥
About the Author
Pat Bromley Pat Bromley MCH, NCHP, has worked with energy healing for 30 years helping people with physical, mental, emotional and spiritual issues. She initially qualified as a homeopath, later adding trainings Flower Essences, Psychotherapy, Hypnotherapy and Reiki.
For 20 years she built up a busy practice, multidisciplinary clinic and holistic shop. More recently she has trained as a Spirit Release Therapist working with energies attached to people and places.
Background Reading
The following books are recommended as further information to the above article.
---
Australian Bush
Flower Essences


---

Bush Flower Healing


---

The Bach Remedies
Workbook

---

New Encyclopedia
of Flower Remedies

---



---
Links
The following links to other websites may be of interest:
Australian Bush Flower Essences - http://www.ausflowers.com.au/
---
Self Help Articles
The following articles and exercise in self-help techniques are the process of development and will be added to and updated on a regular basis.
---
Visualisation and Meditation


---

Flower Essences


---

Homeopathy


---

Crystals


---

This section includes a series of visualisation and meditation exercises showing you how to connect to your Core Self or Soul Consciousness and from their to access your 'Higher Wisdom'. It also includes information on clearing and cleansing techniques.
Soul Connection exercise
Higher-Self exercise
Prayer for Entity Release
Psychic Cleansing Rituals
Protection exercise
Safe Space Connection
Space Clearing
There are a range of flower essences including the Bach and Australian Flower Essence range that can help with confronting fear, clearing links, grounding and cleansing negative energies. Homeopath Pat Bromley outlines the essences that may be helpful.
Bach Essences
Australian Flower Essen.
The vast range of homeopathic remedies some of which deal specifically with mental emotional and psychological conditions. Homeopath Pat Bromley explores the remedies that could be helpful for therapists and individuals who may wish to utilise these remedies in their treatments.
Homeopathic Remedies
The use of crystals for healing is of ancient origin. Crystal Therapist and author Judy hall, who has been working with crystals for more than foty years, describes their use for helping with psychic issues including, past lives, spirit release and attachments..
Crystal Therapy

---

EFT

---

---

Diet and Nutrition

---

---

Music

---

---

Emotional and Physical Exercises

---

In recent times EFT or Emotional Freedom Technique has been shown to be an effective tool for dealing with emotionally based issues. Specific points and mantras are shown here.

The foods we eat and the balance of our nutrition contribute to the balance of our physical, emotional and mental wellbeing. Correct nutrition can play a significant part in changing our psychological conditions.

Since ancient times, as evidenced in the bible story of David playing to King Saul, music has been used to heal and balance the psyche. This section looks at some specific types of music that might be helpful for finding inner balance and peace.

At the heart of many problems lie two powerful emotions - shame and fear. There are a number of simple emotional and physical grounding exercises that can be applied to confront these issues.

---