Spirit Release - The Practice of Soul-Centred Healing Vol 2 (Book Review)
Review
About the Author
Review Letter
Background Reading
Web Links
Other Articles
The Practice of Soul-Centred Healing - Vol. II: Navigating the Inner World Review by David Furlong
Review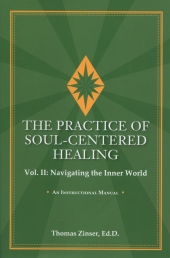 I have been eagerly awaiting the latest edition from Dr Zinser on the practices of Soul-Centred Healing and was delighted to have received a copy of his new book. For those of us in the pioneering field of working through the 'higher-self' in healing ego-states or sub-personalities and releasing attached spirits, new insights are always welcome and for me there were many affirmations for my own therapeutic approach to this field. I was gratified to see that the healing of the inner world is approached as a process or journey and not an event highlighted by a case presentation in the last chapter of the book showing over two-hundred and seventy sessions. Deep seated trauma takes time to heal.
For practising therapists, the great value of this book is its detailed account of the methodology used to clear inner trauma, when working with the 'higher-self' as the primary inner director. The insights presented in this book have been backed up a communication with a spirit guide called Gerod, who channels through one of Zinser´s colleagues. The power of this twin forked approach is that the information from Gerod, in relation to specific client situations, could then be tested empirically. This unfolding process has helped further the awareness of the complexity of our inner worlds.
The book is divided into seven sections, which includes the importance of record keeping or mapping of the client´s inner world, the way the soul links into the body, in depth insights into the healing of ego-states (sub-personalities), special protocols, the mind body spirit link, which includes working with guides and inner teachers and concludes with a case study in soul-centred healing.
One of the fascinating elements I found was cross-referencing Gerod´s information and Zinser´s interpretation with my own working experience. For example, we are informed that there are two primary elements in the way the soul links into the body – the soul essence itself and an aspect that Gerod calls the 'energy point'. This latter part might be termed the life force link, which if disconnected would entail physical death. According to Gerod both these two elements might be displaced from their correct location close to the heart centre, which would then require specific healing protocols to correct. One of the techniques I have long used is asking the client´s 'higher-self' to scan within to assess where they locate their 'inner light' or core self and I have found this is often displaced from the heart centre. Zinser describes a detailed methodology called the 'Diamond' protocol for healing the various elements of this misalignment.
The strengths of this book is the detailed methodology that Zinser has developed, based on a yes/no ideo-motor finger signalling technique, to elicit information to first locate and then heal specific aspects of the psyche. He provides many case study cameos showing this process in action. The weakness is that these parts can be difficult to assimilate if one´s own approach to healing the inner world differs, for they require careful reading and following what is happening in the specific case being highlighted. For those therapists who work in the spirit release field but do not use ideo-motor signalling, I would recommend they persevere through these sections to take on board the insights they contain.
Overall this is another very important edition to field of soul-centred healing and should stand on the book-shelf of anyone working with the 'higher-self' to effect inner change, particularly when dealing with complex cases. My only disappointment was the lack of further information on dealing with dark souls or demonic entities. This is a troublesome area and can be very difficult to resolve. I would also like to have seen an index, which I now feel should be a must in all scholarly books for simple referencing.
Available from Union Street Press. ISBN 978-0-9834294-3-2
♥♥♥♥
About the Author
To order Tom's book from Amazon please click the link in the Background Reading section below.

Dr Thomas Zinser
Tom Zinser, Ed.D. is a hypnotherapist with a private practice in Grand Rapids, MI. He holds degrees from the University of Notre Dame (B.A.), Xavier University (M.Ed), and received his doctorate in Counseling Psychology from Texas A&M University: Commerce in 1977.

After serving as a staff psychologist at a local psychiatric hospital, Dr. Zinser started in private practice in 1980. In 1987, he was specializing in the treatment of dissociative disorders when he met Katharine Mackey who channeled a spirit entity named Gerod. After several sessions with Gerod, Dr. Zinser established a clinical collaboration with Gerod that continued for 14 years.

In addition to helping clients, this collaboration led to an unprecedented mapping of psychic and spirit dimensions of the self. The result was an approach to healing which he called Soul-Centered Healing, which is now available in a book.
About the Reviewer
David Furlong
David Furlong is the Director of the Spirit Release Forum, which he founded in 2011. He grew up in a family that practised spiritual healing and discovered, as a young child, how to access his healing skills. He has been a healer for more than forty-five years.

He is one of the founder tutors of the College of Healing and was the first Chairman of the Natural Health Network. He is the author of six books including The Healer Within, Working with Earth Energies and Healing Your Ancestral Patterns and has run workshops and training courses for more than forty-five years.

In 2002 he became Chairman of Education committee of the Spirit Release Foundation and is involved with developing its educational programmes. When the Foundation closed down he established a new organisation called the Spirit Release Forum, which he runs as director. His latest book entitled Illuminating the Shadow: Transmuting the Dark Side of the Psyche, was published in early 2016
---
Background Reading
The following books are recommended as further information to the above review.
---
Soul-Centered
Healing


---

Practice of Soul-Centred Healing


---

Healing the Eternal Soul


---

Ghosts and Earthbound Spirits


---



---
Links
The following link to Tom's website may be of interest:
Tom Zinser - http://www.soulcenteredhealing.net/
---
Background Articles
The following articles are the process of development and will be added to and updated on a regular basis.
---
The Soul Journey


---

Soul/Body Link


---

Health Issues


---

Death & Transition


---

The articles here explore the recent developments in understanding the journey of the soul through various incarnations as well as information about its sojourn in between lives in the spirit realms.
The Soul's Journey
Reincarnation
In order to experience the Soul needs to be energetically linked into the body. The articles here look at various models that explains how this might occur, providing a further insight into the Soul/mind/body link.
The Soul/Body Link
Soul Fragments and Retrieval
Imbalances between the Soul and the mind/body can lead to a large range of health issues including mental and psychological problems. Mental imbalances include 'Dissociative Disorders' and 'Trance States'.
Causes for Attachments
Electromagnetic Pollution
One of the most challenging experiences that we will all have to face is the death of the physical body. The Near Death Experience or NDE tells us what should happen and provides insights into why spirits get trapped.
Death and Transition
Near Death Exp.(NDE)

---

Trapped Souls

---

---

Psychic Issues

---

---

Spirit Attachments

---

---

Spirit Release

---

There appear to be many reasons why Souls fail to make a full transition and become trapped or 'earthbound' and still able to influence the physical planes. We explore here some of the issues involved.
Earthbound Souls
Sensitive people can be aware of a whole range of 'subtle' energies that can cause them considerable distress. The articles here explore these various states and the way that negative energies can be deliberately created.
Geopathic Stress
Curses
Individuals suffering invasions or spirit attachments claim a wide variety of different types of attaching entities, in addition to normal human Souls. We look here at some of the claims that have been made.
Spirit Attachments
Shadow Entities
We explore the processes that can be adopted to help release trapped or 'earthbound' spirits. The articles here also considers the differences between spirits that attach to people and those that are stuck in places.
Spirit Release
- Background
- Places Part1
- Places Part2
- People Background
- People
- Demonic Release Pt1
- Demonic Release Pt2
---